This page covers three important days of my life:
My first Christmas, Birthday and New Year, all in one week!
(Yeye apologizes for the size limitation placed on movies by the web-provider)
Grandma and Yeye were amazed when they arrived on December 18th at how much I had changed in just the few weeks since Thanksgiving. My walking is quite sturdy now, certainly I do not need much help to walk around a room. Do you want to see for yourself? Just click HERE to see the movie of my walk.
They like to take me to the playground and I like it too. But sometimes it is a bit scary for me.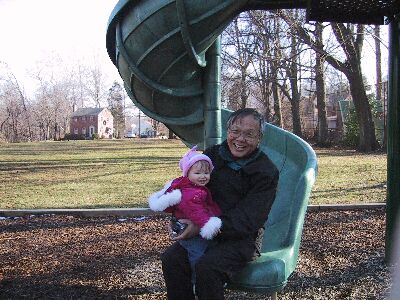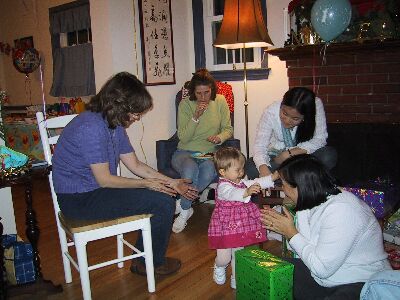 I do enjoy being the center of attention. I certainly had plenty of opportunities during this holiday break!
We enjoyed quite a number of things like: singing Paddy cake, paddy cake, baker's man..., Everyone likes to watch me pretending to sleep on a pillow and getting on and off a rocking chair ( click red to see movies)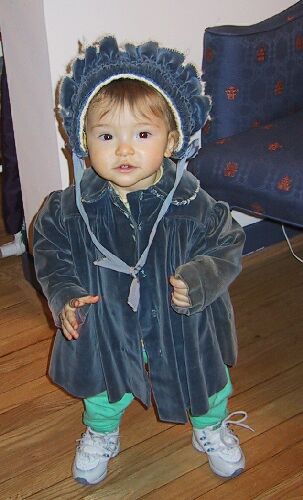 You may wonder what kind of coat is this! Well, this coat was made for my grandma by HER grandma, so that's five generations ago! You can see below what my grandma looked like when she wore the same coat! We don't have everything in common, but you have to admit that I got her hair color!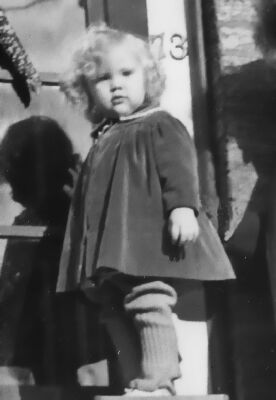 Before Christmas, Yauyau sang with his Chorale Group at the Kennedy Center. Grandma and Yeye went to hear his group without me. They said that I was not quite ready for that. Click HERE to get a bit of that concert.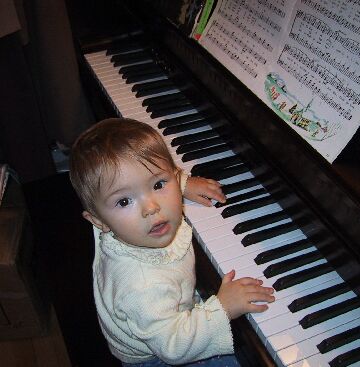 Well, I like to play piano too! During this holiday season, we had a lot of singing and playing, I truly enjoyed them all! The picture below is the way I sang!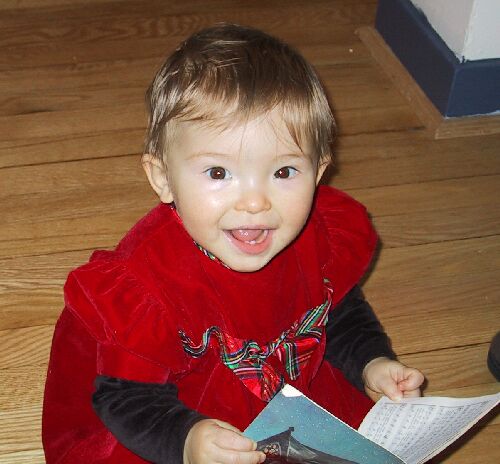 You cannot believe how big a cake my Daddy made for my first birthday. It fed twenty some people who came to sing and celebrate for me. I had a lot of gifts too. Yeye thought that this generation of kids has just too much! I think that he is just getting very old! You can see the beautiful cake below.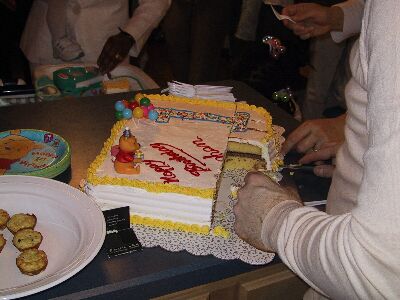 I certainly have opened a lot of gifts, some for Christmas and some for Birthday. Click HERE to see me with one of my gifts. And Click HERE for a glimpse of Birthday party.
I want you to see two of my favorite pictures with my Mom and Dad. My Grandma and Yeye believed that they sacrificed a lot of sleep for me as I adjusted to sleeping by myself at night! I might not be able to tell them right now, but I do appreciate that they have always been there for me when I got scared at night.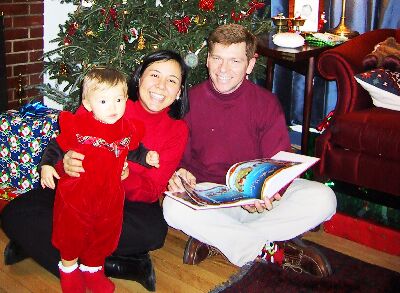 Under the Christmas Tree!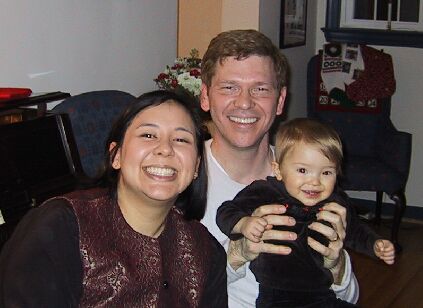 The New Year celebration!