Taiwan Trip 2011
The main purpose of the Taiwan Trip 2011 was the Banqiao Junior High School Class #6 Reunion. Thirteen "boys", now more than 70 years old, gathered on the grounds where they used to play 60 years ago, when they first met. Besides the reunion there, Janice and I decided to visit some relatives who still live in Taiwan and also my close friend at Banqiao, Taotze, and his family, whom we had not had the opportunity to visit for a long time. So this is the record of that part:
Taipei: Er-je (二姐)and family
Er-je (二姐) is now living at her son Huang Hong-Tai's new home, with his lovely wife Sophie and their two grown daughters. We had a lunch and a dinner with them on the same day. They also helped me with some personal business the next day. Those were very happy moments - the pictures below happily record the visit.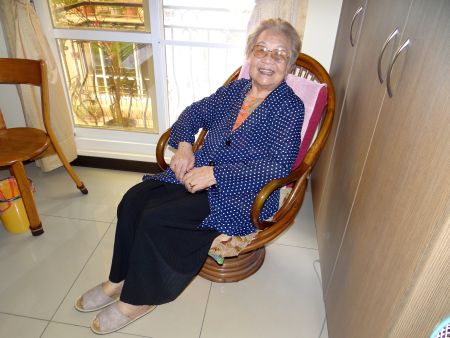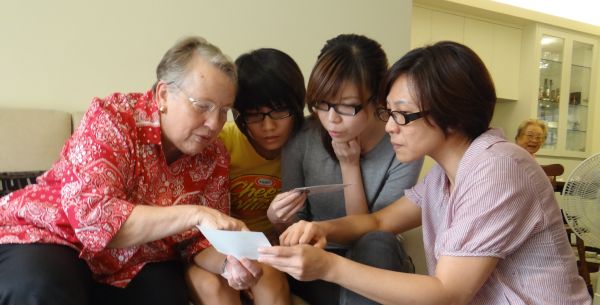 Looking at pictures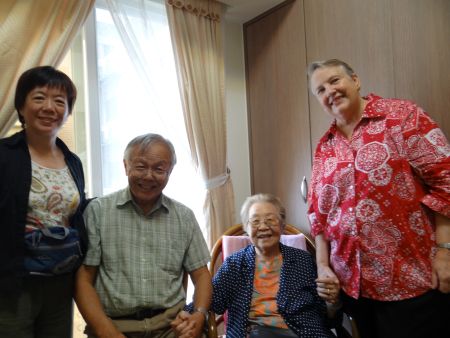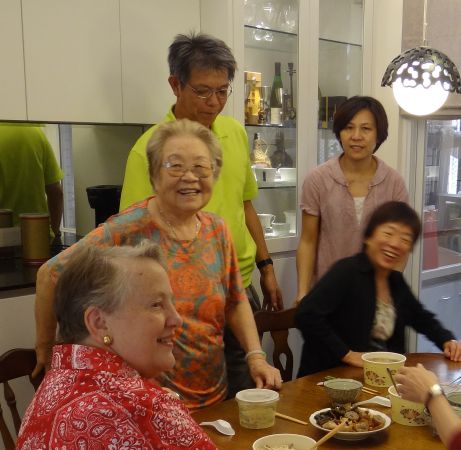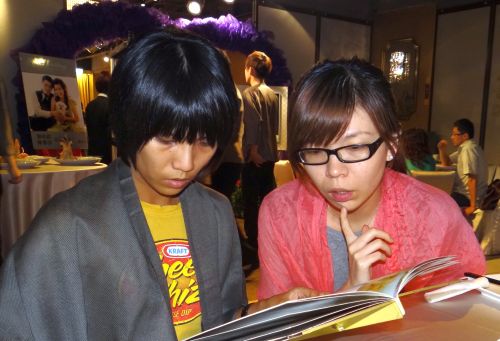 Studying the menu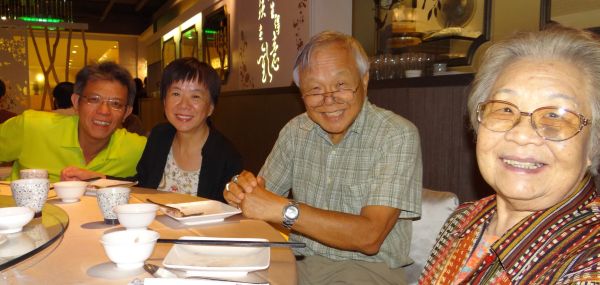 It was Double Ten, October 10th, the National Day celebration time. As we passed in front of the Presidential Building, this was the scene: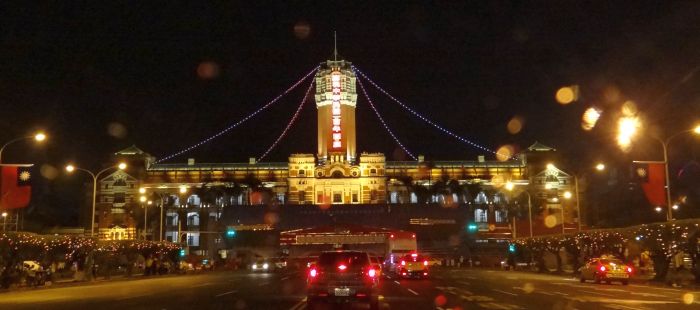 Hwei-ge (慧哥) in Tainan
Hwei-ge (慧哥) is now living in Tainan. On our last visit (2008), Janice and I stayed at her place in Taipei. She no longer can take care of herself. So she is now living with her daughter's family. Her daughter married a professor at Chungkung University. Janice and I took a fast train from Kaoshung to Tainan (only 13min). They picked us up at the train station and took us to see the University first, then we went to their home to eat lunch with Hwei-ge and take some pictures together. When Hwei-ge went to her room to rest, they took us out again to see Cheng Chungkung's Memorial, followed by a visit to Confucius's Temple. Janice really liked this visit which described quite a bit of history. (She had a chance to read quite a number of signs!)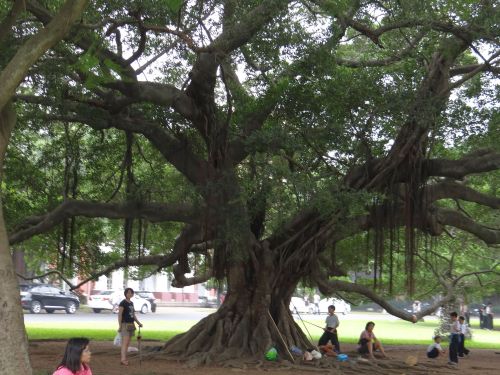 Banyan Tree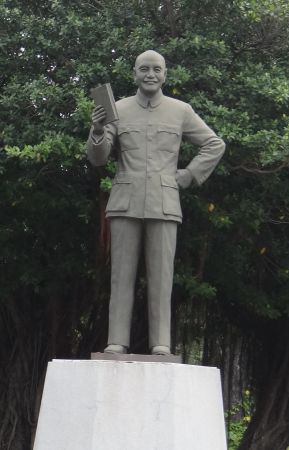 A rare sight of Chang Kai Shek's statue in Taiwan!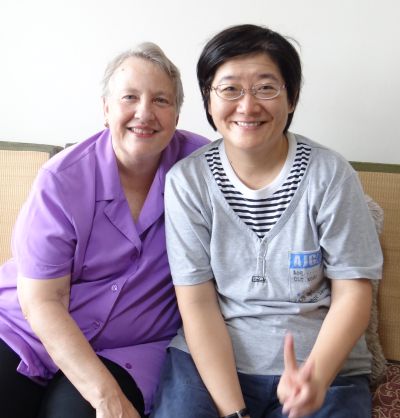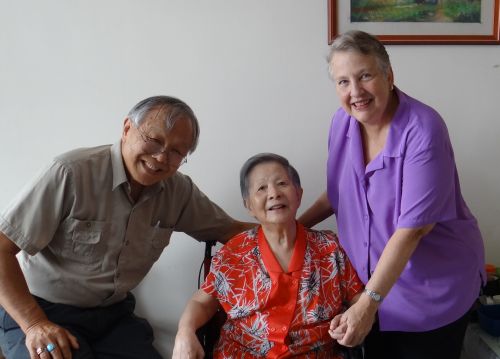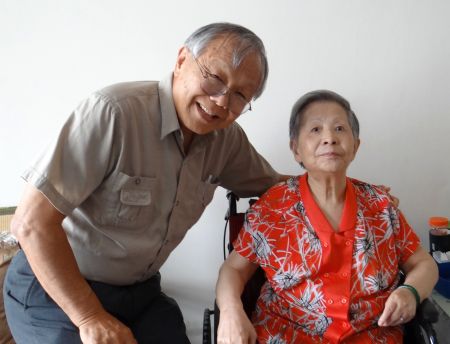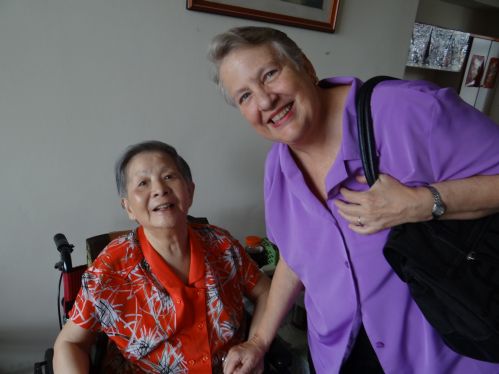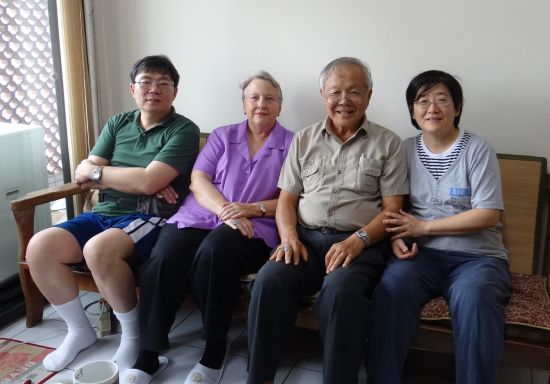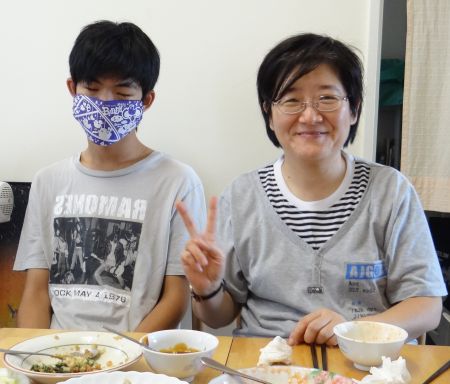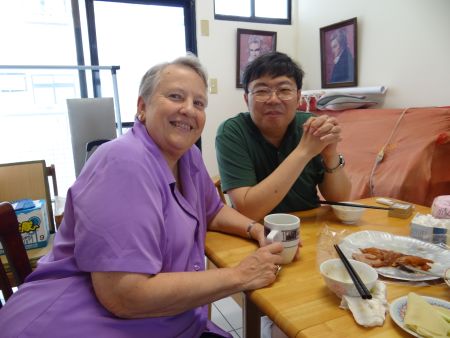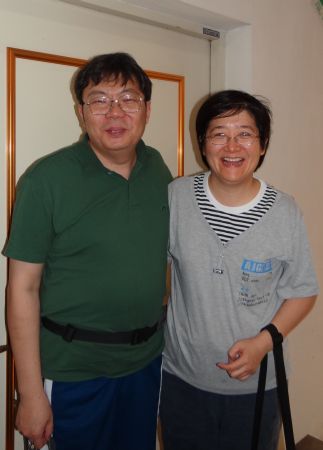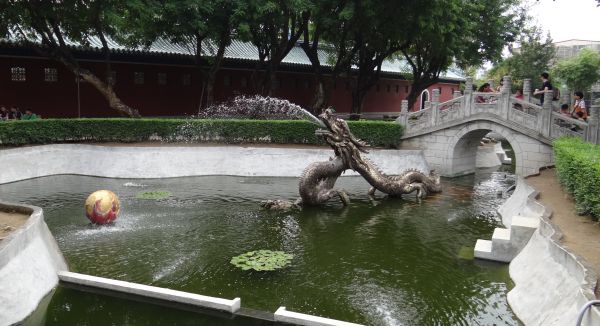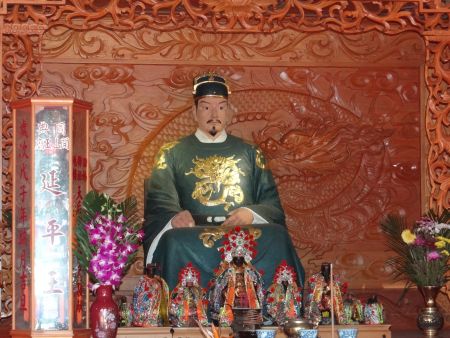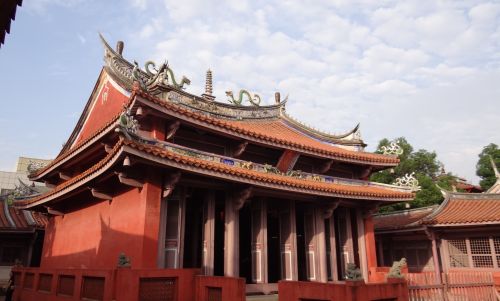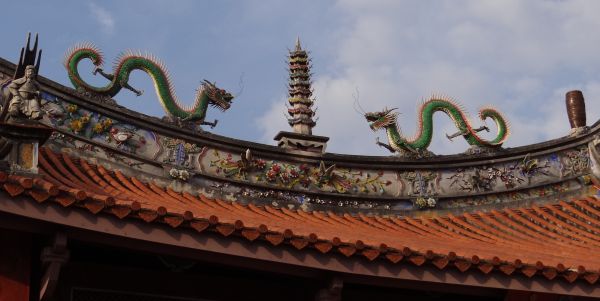 Taotze Family Home in Kaoshung
We stayed in Louise and Taotze's home for a whole week. That was indeed a rare occasion We got a chance to talk and to feel how they live in Taiwan.. We tasted different types of food, fruits, and fancy breakfasts. Let me just show you a few right here.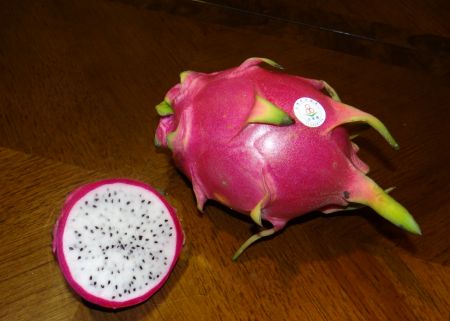 Fire Dragon fruits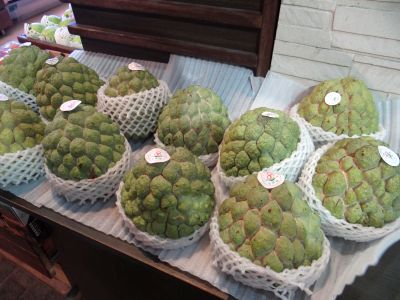 Sugar Apples, originally from Thailand.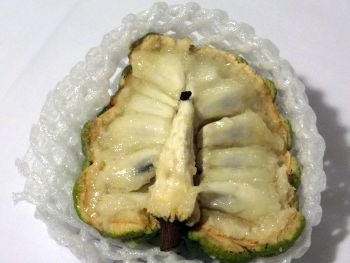 inside sugar apples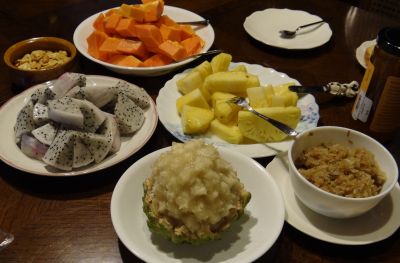 Can you tell what are these fruits?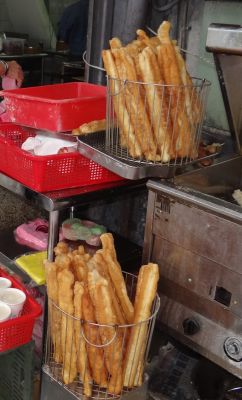 Pot stickers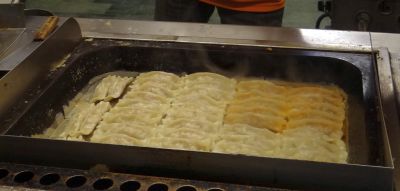 We visited a famous Buddhist Temple, the Light Of Buddha Temple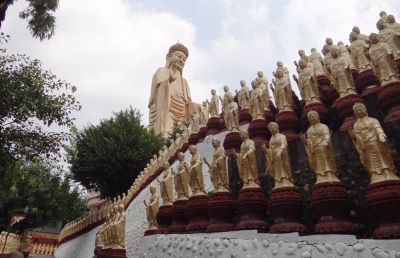 outside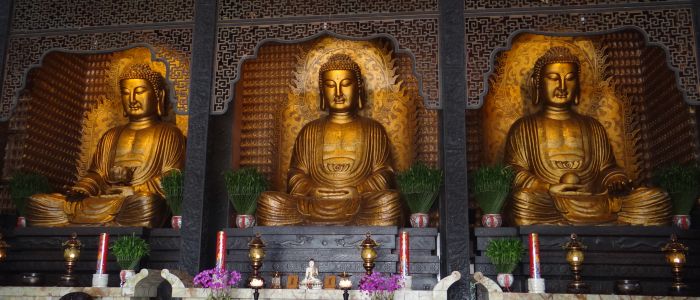 inside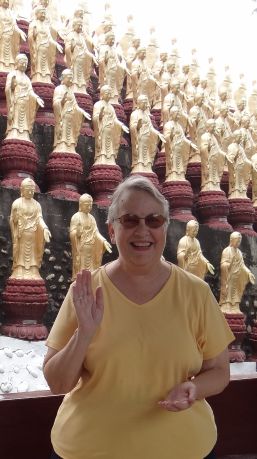 right hand: do not fear; left hand: give, do charity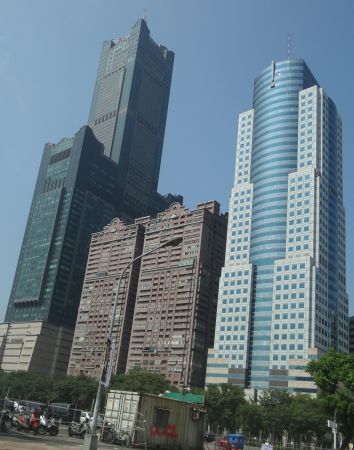 2nd largest city in Taiwan. We had lunch there in Building 85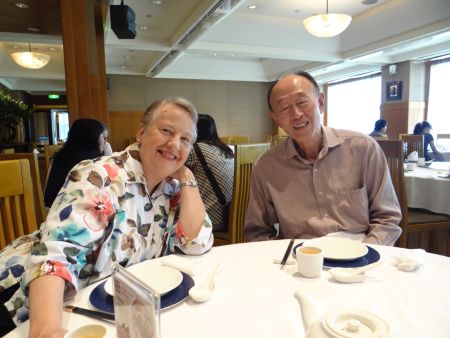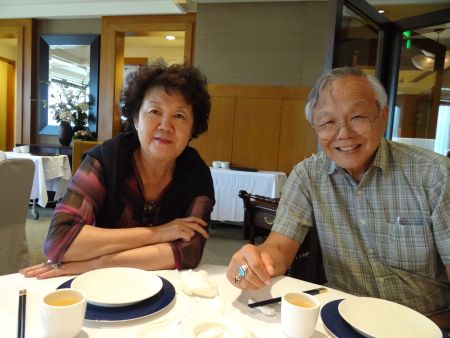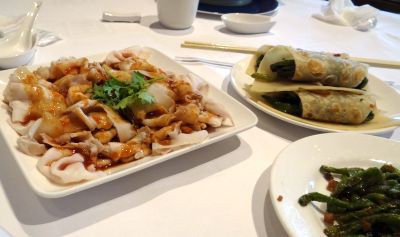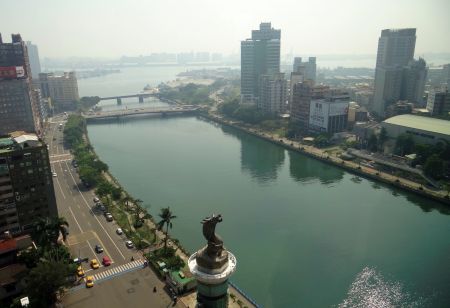 looking out from the restaurant at Love River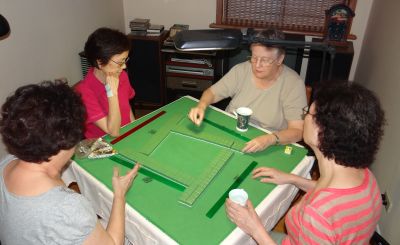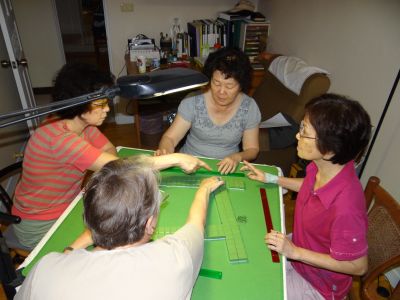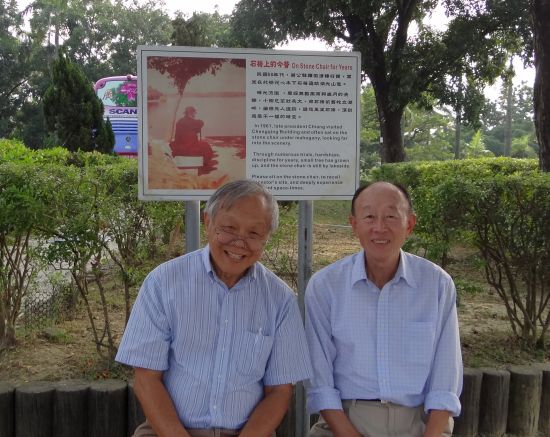 sitting on Chiang's bench at his winter home!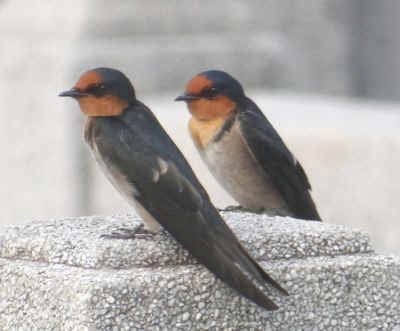 Taiwan tanager?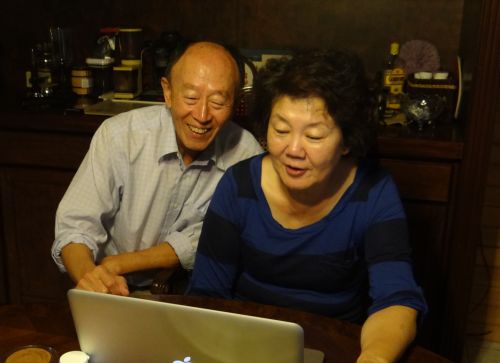 my favorite picture of Louise and Taotze! Talking on SKYPE!