Garden Route --- South Africa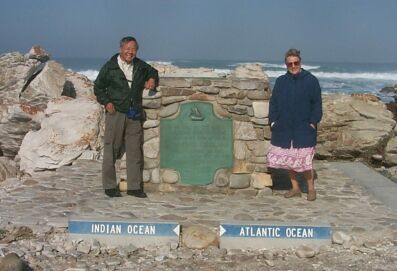 This is the true southern most point of this big continent, Cape Agulhas. As you can see, Janice and Tom were standing beside different oceans. Janice likes the cooler Atlantic ocean while Tom enjoyed the 10 degree higher temperature on the Indian Ocean side.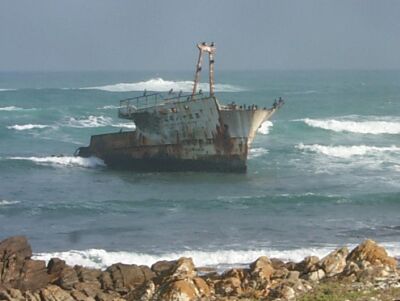 Around Cape Agulhas the sea is very rough along the rocky shore. During a storm in 1995, a Taiwanese fishing boat was grounded here on the beach. On this beautiful day when we were there, the color of the water was so blue and the sea was so calm that you could not imagine that it could change to such violence.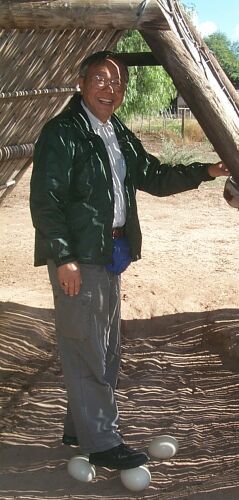 Tom had both of his feet standing on separate ostrich eggs at a farm outside Oudtshoorn, which is located north of the main N2 highway. You have to climb over the Outeniqua mountain range to get there.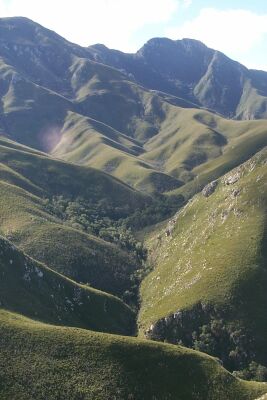 The scenery on the Outeniqua range is just spectacular!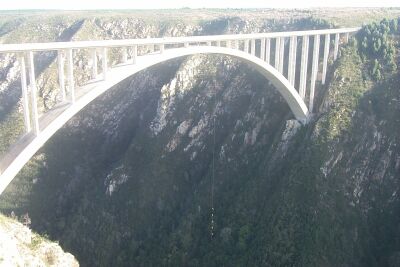 We want you to look at this picture carefully. Right in the middle of the highway bridge, you will find a rope which is 196m long. (You can see 5 white dots in front of the dark rock to locate the rope.) It is the longest bungee jump in the world, according to the Guinness record book. No, no one jumped when we were there!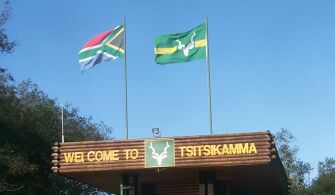 The flag on the left is the flag of S.A. - our guide was not sure what all the colors represent. The flag on the right is the flag for S.A. national parks. Tsitsikamma National Park is a very famous park along the garden route.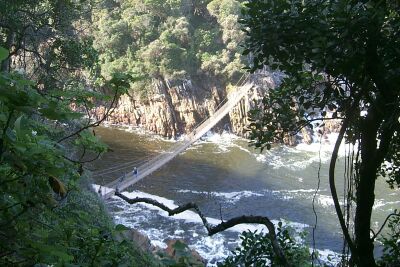 You will find this nice hanging bridge after a short walk in Tsitsikamma. The view was so wonderful that the bad coffee and food at the visitors center restaurant would not prevent anyone from visiting this place again and again.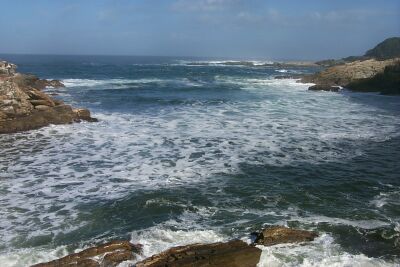 Don't you just love the color and the beauty of the beaches along this route! Both rocky and sandy beaches are seen along the Garden Route. With other attractions along this road as you travel through, it is certainly a journey through Eden.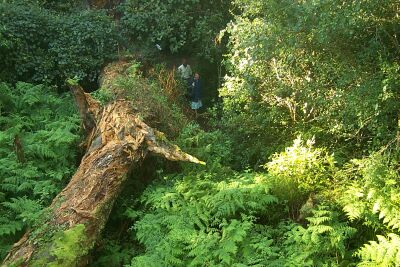 Ferns took over after this giant yellowwood tree was blown down and opened up the space for sun to seep into this forest.