Daily life --- outside the University --- I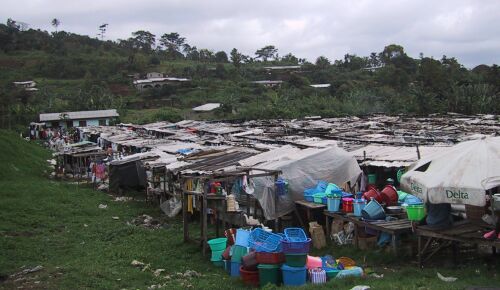 This is a view of Great Sappo Market in Buea. It has two market days each week - Tuesday and Saturday. (Markets in different communities take place on different days.) Merchants bring their goods here at day break and haul everything out at the end of day light time. There is no water, no electricity, no restrooms, and no overhead. Fixed shops in our neighborhood are not much better. They generally have electricity, so they remain open for longer hours. But for customers the shopping environment is the same.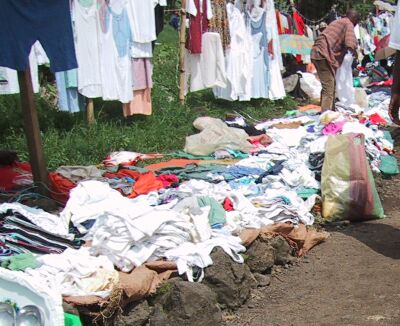 For ladies, you can buy nylons, bras, and panties on the ground; clothes on the racks. Janice wants to know where the men's store is located!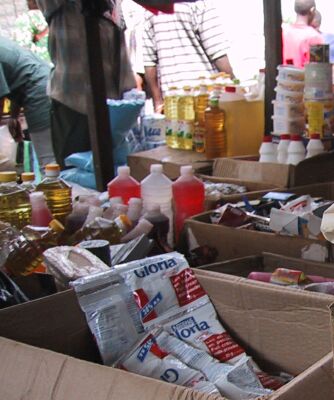 Cooking oils, cleaning chemicals, coffee, tea and creamers (in the front box) are sold on homemade racks.
This vegetable "stand" has all the vegetable we regularly eat here, carrots, green beans, tomatoes, celery, peppers, and okra (not seen in this picture). The vegetables in a "pile" are usually sold for a fixed price, unless of course there is a "color tax" for white customers!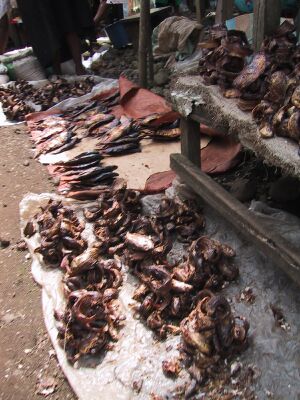 Of course, you can get meat here as well, such as poultry, beef or pork. Dried fish as sold here is common to Africa but is most unusual in other parts of the world. It comes smoked and/or spiced as you like. But this is one of reasons that Janice will not have anything to do with shopping.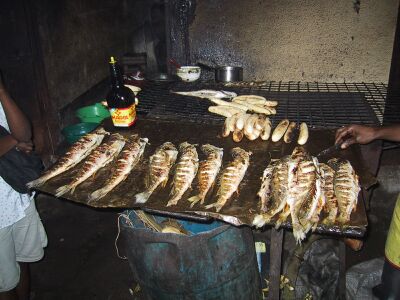 Fresh roasted fish and plantains however make a very tasty meal. They are sold in Limbe (15 miles away from Buea) at the beach. It's almost a weekly occurrence now that we go down there to watch the sunset and then have a fish dinner. For Janice, who is not at all interested in fish, you can imagine a few other reasons for her to go there.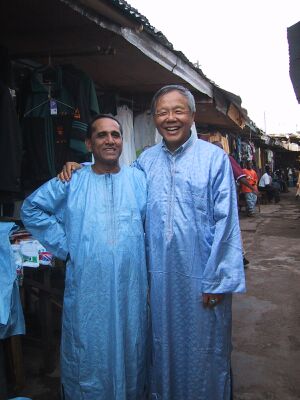 Finally, we want to show you one of our happy experience in shopping a few weeks ago. Professor Ahuja (a friend who is a Commonwealth Scholar from India) and Tom each bought a native robe, called a "jumper". This clothing originated with the people in the northern areas of Cameroon but is now worn everywhere in the country.