Cape Town --- South Africa

This is Cape Town! You can imagine how much Tom wanted to hike these mountains! There are four million people living in the area. This picture was taken on the ferry to Robben Island in Table Top Bay, where Nelson Mandela was jailed for 18 years (he was jailed elsewhere for 9 additional years). Clearly, you will have no problem to find Table Top Mountain in this picture. On the right side of the picture, you can see two peaks, the one behind is the famous Lions Head. The front one is called Signal Mountain. We stayed in a B & B, named Dale Court, at the bottom of this hill for four nights --- a very nice and convenient place.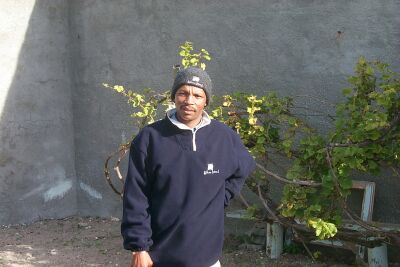 It is half an hour boat ride to Robben Island. All guides on the island are former prisoners. This was our guide who is standing at Nelson Mandela's favorite place, we were told, in the yard. We saw the small cell used by Mandela and the common cell where our guide was incarcerated. It is a very small island, Tom estimates it's size to be about 1x1.5 miles.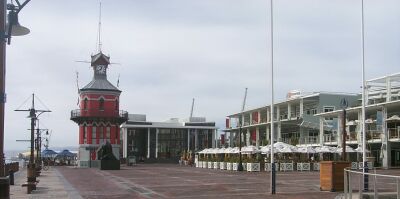 This clock tower is in the center of the water front area, which is about 10 minutes walking distance from our B & B. . It is also the starting and end point of the Robben Island tour. There is a shopping mall nearby with lots of restaurants and an IMAX theater. The price of food and theater tickets are all about half of the corresponding prices in the U.S.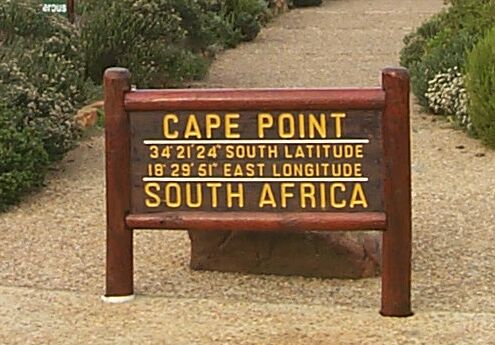 We took a one day tour on the Cape Peninsula, which included visiting Hout Bay (where we took a short boat ride to visit the seals nesting on a nearby island), Fish Hoek, Simon's Town (where we visited a beach inhabited by penguins), and the Cape of Good Hope (at Cape Point), etc. It turns out that Cape Point is not the southern most point of the continent.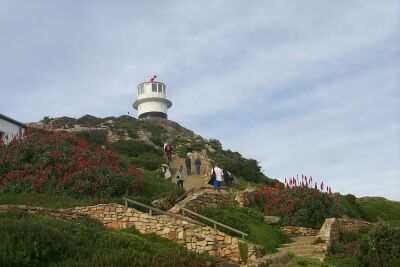 This is a well-kept and much visited place in S.A. This light house was built too high for practical use, as it is above the clouds much of the time. Later another one was built below.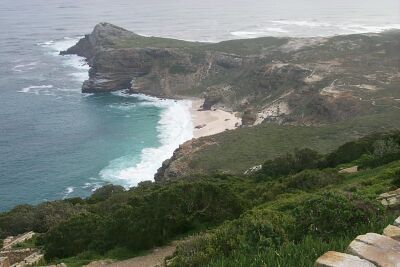 From the light house, you will get some spectacular views. This is one of them - looking at the actual Cape of Good Hope .
In this nature reserve, you will see, on your way in and out, a lot of beautiful flowers and some animals, who are very comfortable with human beings, along the highway. Sorry that we can no longer tell you the names of the flowers in the photo, we were told but just forgot.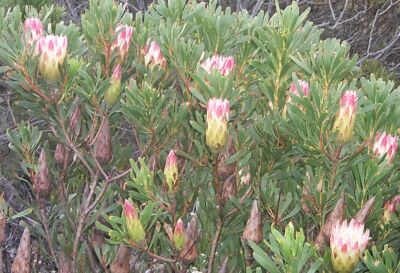 This is one kind of protea in the reserve, they were not yet fully in bloom. King Protea is the national flower of South Africa.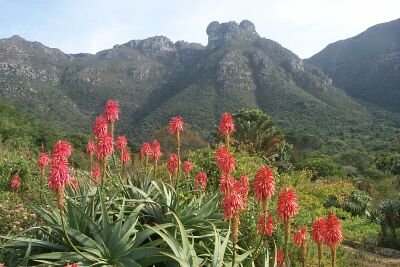 Aloes are still blooming during the winter at the Kirstenbosch Gardens - which has to be one of the world's best botanical gardens!