Ready or not, I am coming to this world
My name is Alexander Franco Munoz. My arrival in this world occurred at the end of a tumultuous week! On Tuesday evening, May 25th, my big sister Meghan came down with a stomach virus which sent the whole family to the emergency room for several hours because they were worried about her becoming dehydrated. They got home about 3 a.m. and Meghan bounced back by the next day. However, on Wednesday night, my Dad, Franco, came down with a much more serious version of the virus. He ended up in the hospital for 36 hours! On Thursday, my Mom, Margaret, got sick but, fortunately, her version of the "bug" was much milder. However, because she was weak and unable to eat all day, and because my Dad was still in the hospital, the planned C-section for Friday, May 28th, was postponed for a week. But I had other ideas and tried to make it clear that I was ready to arrive! On Friday morning, May 28th, with the contractions coming 2 minutes apart, Mom and my Grandma, Janice, set off for the hospital (a different one from the one where Dad was still ensconced). Fortunately, all went well. Dad was able to get to the recovery room to welcome me, his new son. Mom seemed to recover pretty well and my big sister was very excited to meet me! She has given me many kisses and hugs. My Yeye, Tom, was in China when I was born and had a lot of trouble trying to get news of the events. He finally reached my Yao Yao, Steven, and found out that I had arrived! So it was quite a week for all concerned but I am happy to be here and everyone else seems happy too! By the way, I weighed 8 lbs 9.6 oz at birth and was 20 inches long. My Mom was impressed!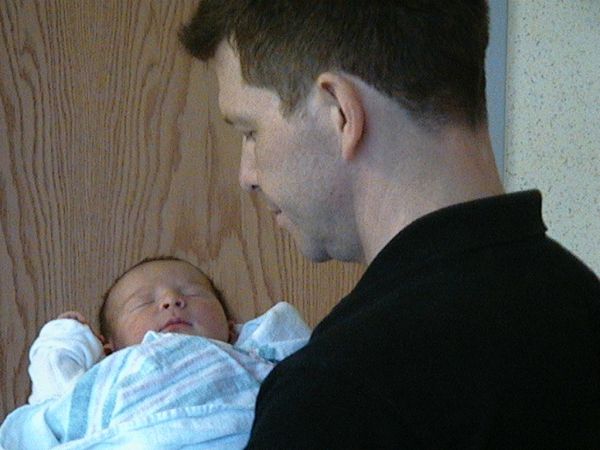 My first picture with my Dad.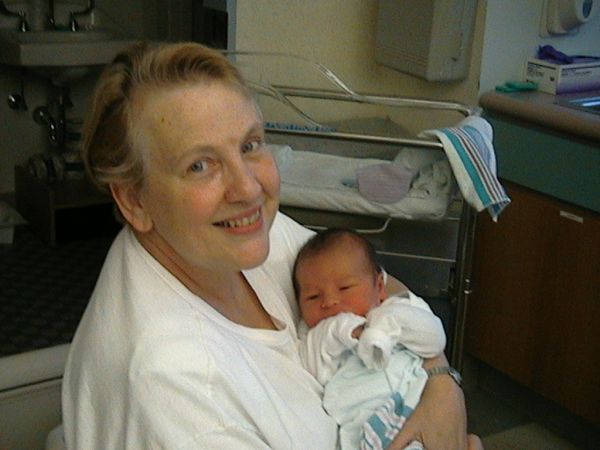 Grandma kept me awake.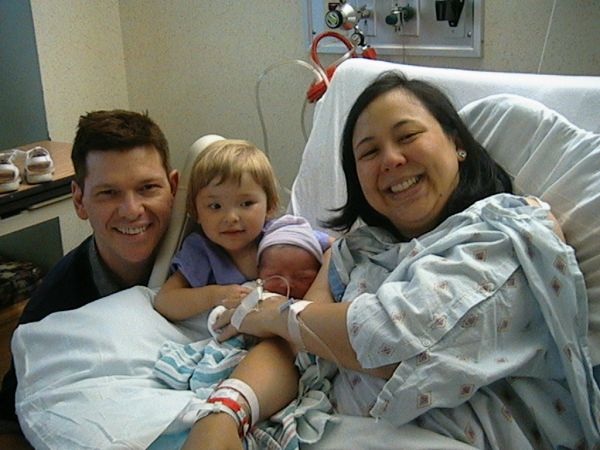 All four of us in the hospital bed! Not much room for me!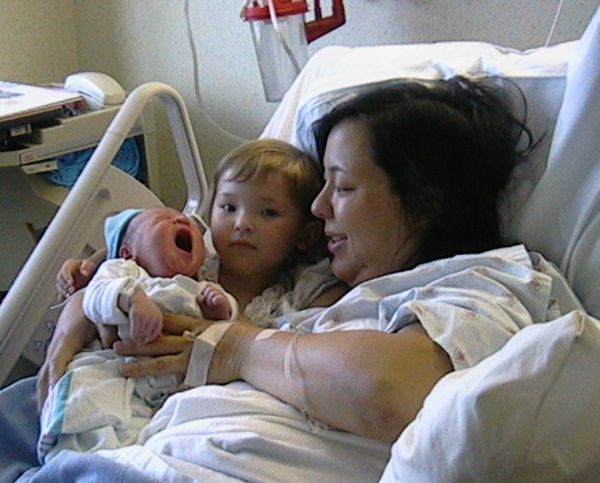 My big sister is amazed at how big my yawn is!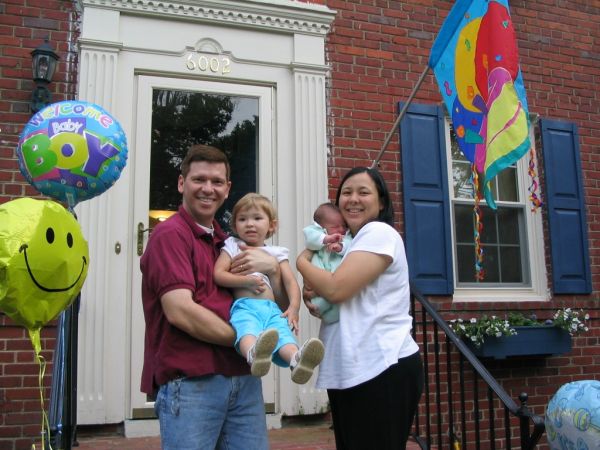 We came home from the hospital on Monday the 31st of May. The house was decorated with lots of balloons!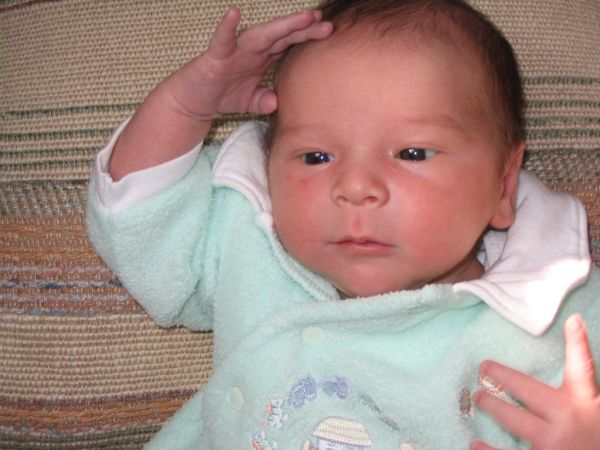 It looks as if I am trying to salute!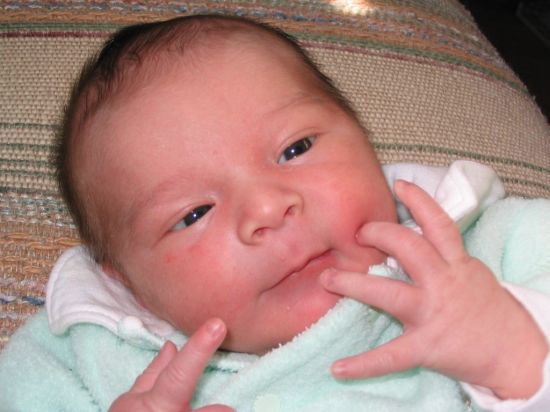 I am really curious about everything!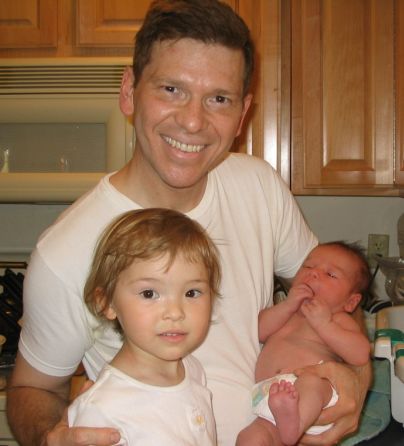 Big sister Meghan is helping me get ready for my first bath!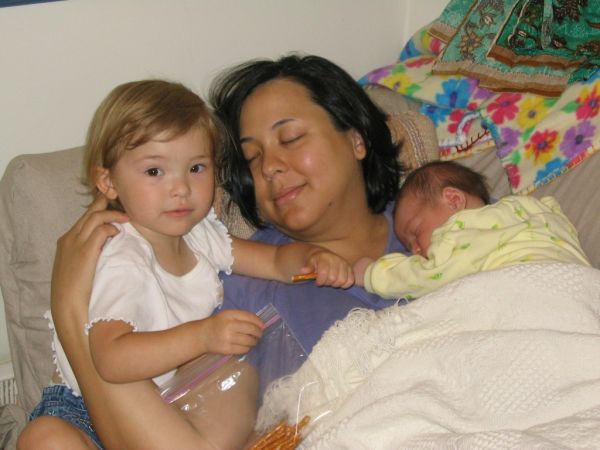 A quiet moment with Mom and Meghan - I wish I could eat some of those pretzels!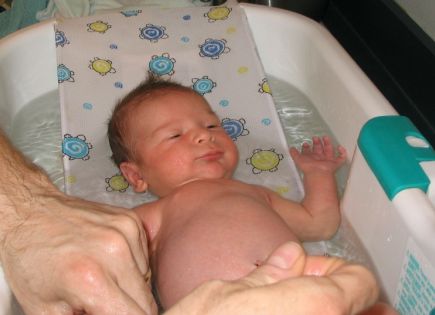 My first bath - pretty comfy!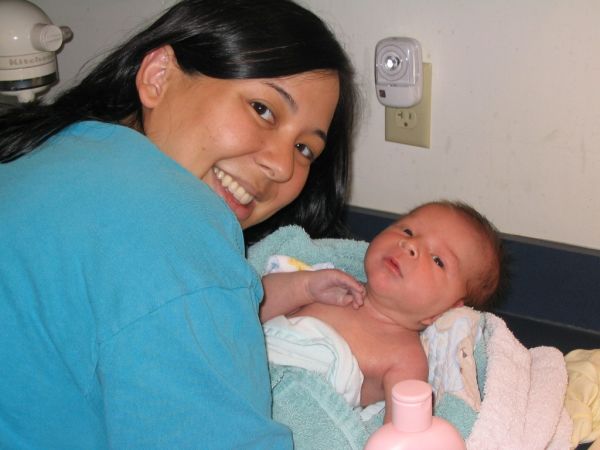 I was glad to be back on dry land!